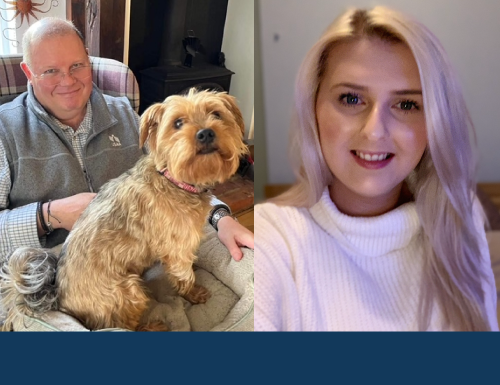 USAA International Teammates Serve Members to Lock in a Lifetime of Loyalty
With over 174,000 active-duty members stationed overseas, P&C's international teams work to ensure their USAA experience is unforgettable and impacts generations to follow.
February 8, 2023 - USAA has three international offices: Frankfurt, London and Luxembourg. Our teammates in these offices work with international employees based in the U.S. to create a culture of service for our overseas deployed members, and make sure they have a consistent connection to back home in the U.S.
Simon K., USAA AVP international, shares that our international employees provide a unique experience for our overseas members that often sticks with them the rest of their lives—and even impacts future generations of members.
"We have members who were stationed in nine European locations (e.g. Italy, Germany, United Kingdom) and five international locations (e.g. Puerto Rico, South Korea, Guam)," says Simon. "The connections we make are founded in our unique DNA that creates lifelong relationships for our military members who are away from their homes and families."
International teams focus on generational memberships and being there for our members throughout every stage of their service. These offices may directly serve a specific group of active-duty members, but they are creating emotional ties that our members can share with their children and grandchildren to lock in a lifetime of loyalty.
"We have members who will wait to speak to someone in an international office who they established a bond with during their service abroad," adds Simon.
The teams are also focusing on what's next for our international offices. Kirsty-Marie M., USAA business and strategy planning, shares that "We are always looking ahead to identify what our members need and ensure we are aligned with the enterprise future-proofing."
The international experience that our members receive when overseas is the same caliber as they expect when based in the U.S. Providing members with the same level of service can be challenging when applying U.S. practices with local European market norms. "Over 80% of our membership are active duty," explains Kirsty-Marie. "It's imperative that we keep the mission at the forefront of what we do."
International is a business that is not standing still. "We may be a small part of P&C, but we operate on a large scale covering all aspects of an insurance company," says Simon. "We have less employees in our European offices, so everyone must wear a lot of hats for which I am very grateful for, and we have many support functions for us to operate at the high level we do."
International is a fully authorized company that works like a holistic insurance company. It is not a single line of business, and has dedicated teams like HR, operations, finance, claims, ISS, strategy and planning, compliance, legal, actuarial, admin and many more areas needed to operate in Europe.
"Even though we have full operations, we rely on our stateside teammates to support our needs, provide necessary bandwidth and help us stay aligned with enterprise strategies and policies," says Kirsty-Marie. "These key services are documented and supervised via specific affiliate agreements. Our Frankfurt, London, Luxembourg and US based employees work as one big team to provide our overseas members with the support they need and deserve."
Simon and Kirsty-Marie both say they value the rewarding and exciting work they get to do in our international offices. They share that no day is simply business as usual, and they wouldn't have it any other way.