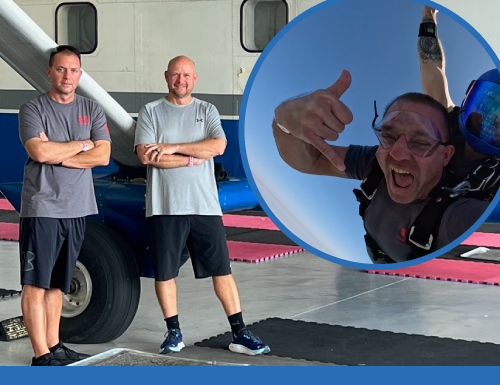 Skydiving in Honor of the Fallen
Here at USAA, our employees have incredible stories of service, loyalty, honesty and integrity. Their stories and experiences are what keep USAA's mission at the forefront of everything we do.
In June, team members from Life Company traveled to support the USO Experience in Virginia Beach where USAA was the title sponsor. As part of this event, Jason W., manager, life/health/retirement income, and Garrett R., product management director, had the opportunity to skydive in honor of fallen service members.
Jason and Garrett each chose a service member profile, and they were each presented with a patch to carry with them on the jump.
Jason selected U.S. Army Ranger Cpl. Ben K.
"I never met Cpl. K., and I didn't even know his story until the event," says Jason. "I jumped with his patch as a symbol of remembrance and respect for him and his family. After the jump, I pinned the patch on a wall with his life story and a picture. Then after the event, the pin was sent to his mother as a small token of appreciation for the sacrifice that her son gave for our freedoms."
Garrett picked U.S. Army Capt. Andrew P. R.
"I saw the picture of my soldier, rang the bell and sat there in silence," he says. "When I rang the bell, it brought everything home. It really made me be proud to be part of an organization that supports the military and knows how important it is to be a service member."
Following the skydive, the USO sent the patches to the families of the service members to let them know their loved one's legacy is still remembered. What makes this story even more special is Jason and Garrett are veterans themselves. Plus, Cpl. Ben K. was a USAA member.