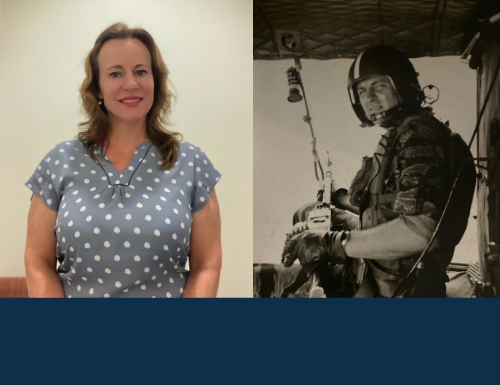 Honoring My Father's Golden Knight Legacy
Here at USAA, our employees have incredible stories of service, loyalty, honesty and integrity. Their stories and experiences are what keep USAA's mission at the forefront of everything we do.
Below is the story of 25-year USAA employee, Cheryl, and how she got to know her late father through his legacy as a Golden Knight.
My father, James, passed away while in the U.S. Army when I was just shy of two years old, and his story is one that I am extremely proud to tell this year during the 50th anniversary of his passing.
When I was in elementary school, I discovered some boxes that had the mementos from my father's incredible military career. Finding photos and even his flag inspired me to ask questions and learn as much as I could about his time in the military.
My father was born in 1936, and he joined the U.S. Air Force in his teens. He met my mom at Nellis Air Force Base (NV) in 1955, and they married soon after at very young ages. He served in the air force, joined the Thunderbirds, separated and then re-enlisted in the U.S. Army to serve in the Vietnam War.
I'm not sure how long he was in the war, but he was a gunnery sergeant, meaning he provided cover fire to the troops on the ground and helped with extractions.
In 1970, he joined the Golden Knights—the U.S. Army Parachute Team that began in 1959 and is based out of Fort Bragg, North Carolina. The Golden Knights are one of the three Department of Defense-sanctioned aerial demonstration teams, with the other two being the U.S. Navy Blue Angels and the U.S. Air Force Thunderbirds. This paratrooper team currently consists of 95 service members.
But the Golden Knights are not simply a paratrooper team, they are also known as "Goodwill Ambassadors to the World." The members of this team bring fun, joy and amazement to other military members and civilians around the world by traveling to different locations to perform and showcase their aerial skills. In 1973, my father and his team were traveling to their first exhibition of the season in Kansas when their plane crashed into a corn field about an hour after they departed from Fort Bragg. Fourteen service members were aboard that flight, including my father. The severity of the crash is still remembered today as the worst in history for this team—killing 11 parachute team members, two pilots and one crew chief.
Although I didn't know my father, I do know that he served his country with honor. The creed of the Golden Knights is special and parts of remind me of our Mission here at USAA. We are here to serve our members, lift our teammates up, pursue excellence and live with dedication and attention to detail.
As USAA employees, we could consider ourselves a version of a "golden knight," as we strive for these same goals for our membership and our mission.
I did not get to grow up knowing my Golden Knight father, but I was lucky to have a wonderful stepfather who also served in the U.S Air Force and raised me alongside my mother. They are still married today, and my stepfather was a USAA employee until 2021.
As I reflect on everything my father accomplished around the 50th anniversary of his plane crash, I am so proud to contribute to the family tradition of service as a USAA employee.
NC-0623