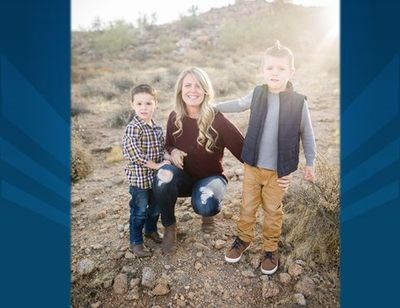 Cherish Every Moment
After years of failed attempts to have a child, my life was aligning in ways to point me in the direction to pursue adoption.
December 7, 2022 - In September 2014 we were matched with a birth momma, and our baby boy was born on Nov. 8, 2014. He joined our family and his forever home on Jan. 11, 2015.
At this point, I had been with USAA for about 10 years. I generally knew the importance of life insurance. I've presented it to our members over the years, so I most definitely see the need for it.
About a week after my son was placed in my arms, I started a life insurance policy for him. Fast forward eight months, and his full biological brother was born and joined our family as a one-day-old sweet little boy. Again, I took out life insurance for him. Life can get busy, and I didn't want to forget, so I called as soon as both of my boys were home with us.
When my sons were about 14 months and 24 months old, they were diagnosed with Duchenne Muscular Dystrophy (DMD), a terminal form of MD that impacts mostly boys and is genetic. Today, at seven and nearly eight years old they are at their peak physical ability. Their strength will continue to deteriorate, and we will adjust as they lose all of their physical strength, mobility and independence.
When this life-changing and tragic news hit my family, it took some time for the fog to clear. Once I could start focusing on their future and how our lives would look, I realized how blessed we are to have purchased life insurance policies on both boys – now their insurability is guaranteed. So, when the unthinkable day comes, I won't need to worry, and I can grieve.
We have such a hard road ahead of us, but with my boys' strength and joy, I enjoy every single day we are given together.
My boys are my why. They are why I show up every day and work hard for our mission. My USAA family takes care of me, and in turn I can take care of our members. I'm forever grateful for this job that turned into a career, for the coworkers I call family and to USAA for protecting my financial security as a member and employee.