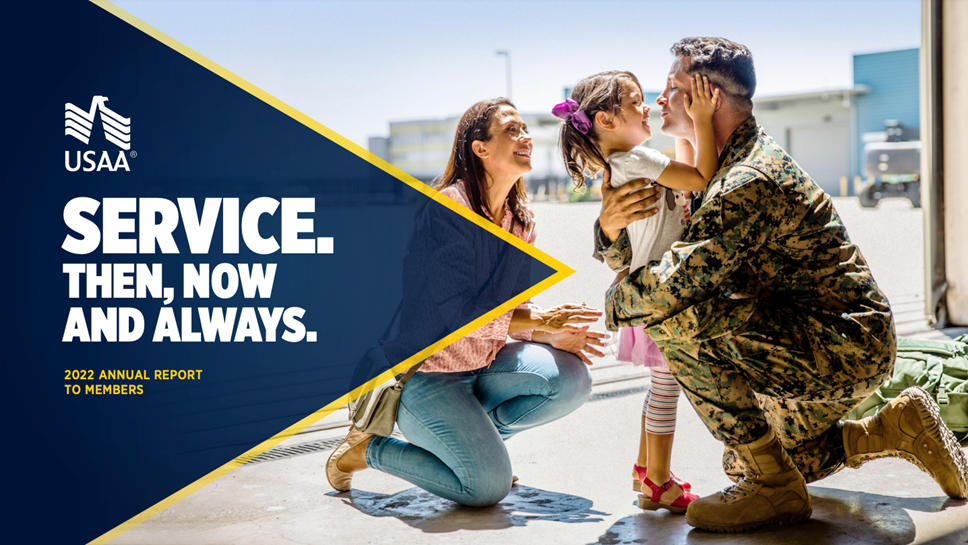 USAA's 2022 Annual Report to Members looks back at 100th Year of Service to Members
SAN ANTONIO – USAA today released its 2022 Annual Report to Members, highlighting examples of its service to members last year – its 100th anniversary year – including auto insurance innovations, an updated mobile app and added value through the elimination of ATM and other fees for banking customers.
"Service has always been at the heart of what we do," said USAA President and CEO Wayne Peacock. "In 2022 we helped our members save money and were there for them when they needed us most. That presence was particularly important as they dealt with record inflation and supply-chain problems. We deeply appreciate our members' loyalty and trust, especially in such a challenging environment, and that's why we make exceptional service a priority."
USAA supported members in 2022 with new innovations and ways to save money by:
Returning nearly $2 billion in dividends, distributions, and bank rebates and rewards.
Providing members opportunities to reduce auto insurance premiums through innovations like the SafePilot safe-driving app and "pay-as-you-go" insurance.
Paying nearly $2.5 billion in catastrophe claims and helped members get on the road to recovery quickly. That included responses to more than 60 weather-related catastrophes – an average of one every six days, including Hurricane Ian.
Dropping USAA ATM and non-sufficient fund fees.
"Like every year, USAA's focus in 2022 was on serving and supporting members during a period of rising inflation and supply chain problems," said USAA Chief Financial Officer Jeff Wallace. "We were also focused on maintaining our strong financial foundation, because that allows us to meet commitments to members now and into the future."
The report notes inflation hit a 40-year high, car prices rose, vehicle accidents increased, and labor shortages and supply chain disruptions impacted repair costs and times for homes and autos. Increases in the energy, petroleum and lumber industries also drove up the cost of supplies. As members navigated those economic headwinds, USAA continued to provide products, services and advice to empower members financial security.
Financial Results
USAA maintained a strong net worth of $27.4 billion, preserving USAA's ability to serve and support members and the association, and revenue was $36 billion. Strong product revenue performance across all of lines of business helped to mitigate a net loss of $1.3 billion, which was driven in large part by declining investment returns and higher home and auto rep
air costs that impacted the entire home and auto insurance industry. USAA Federal Savings Bank and Life Company were both profitable, demonstrating the business value of serving members through multiple lines of business.
Member Service
USAA's 2022 Annual Report to Members includes highlights of USAA's service to members last year. In 2022, USAA built self-serve digital tools to stay on top of finances, launched a program to put home ownership within reach for those who may make less than their area's median income, introduced a new secured credit card to help members build or rebuild their credit history and offered members a way to protect their home and family using eligible smart technology devices. USAA also celebrated its 100th anniversary in 2022 through events to support military entrepreneurs, gifting 100 cars to deserving military families and building a traveling exhibit to teach kids about the history of innovation in the military.
USAA also served the community by contributing $47.5 million from USAA, USAA Bank and The USAA Foundation, Inc. to military and locally focused nonprofits; awarding the final $20 million of a $50 million commitment made in 2020 to advance diversity, equity, and inclusion; and reaching 2.2 million service members with financial education materials from The USAA Educational Foundation, Inc.
About USAA
Founded in 1922 by a group of military officers, USAA is among the leading providers of insurance, banking, and investment and retirement solutions to more than 13 million members of the U.S. military, veterans who have honorably served and their families. Headquartered in San Antonio, USAA has offices in eight U.S. cities and three overseas locations and employs more than 37,000 people worldwide. Each year, the company contributes to national and local nonprofits in support of military families and communities where employees live and work. For more information about USAA, follow us on Facebook or Twitter (@USAA), or visit usaa.com.
The USAA Foundation, Inc., a nonprofit organization, supports organizations that provide services in the areas of education, health and human services, arts and culture, and civic and economic development primarily in the communities where USAA employees live and work. The USAA Foundation, Inc., does not endorse or promote any commercial supplier, products or services. USAA is the sponsor of The USAA Foundation, Inc.
The USAA Educational Foundation is nonprofit charitable organization qualified under Section 501(c)(3) of the Internal Revenue Code as a tax-exempt private operating foundation with a mission and purpose to lead and inspire actions that improve financial readiness for the military and local community. The USAA Educational Foundation cannot endorse or promote any commercial supplier, product or service. USAA is the sponsor of the USAA Educational Foundation.