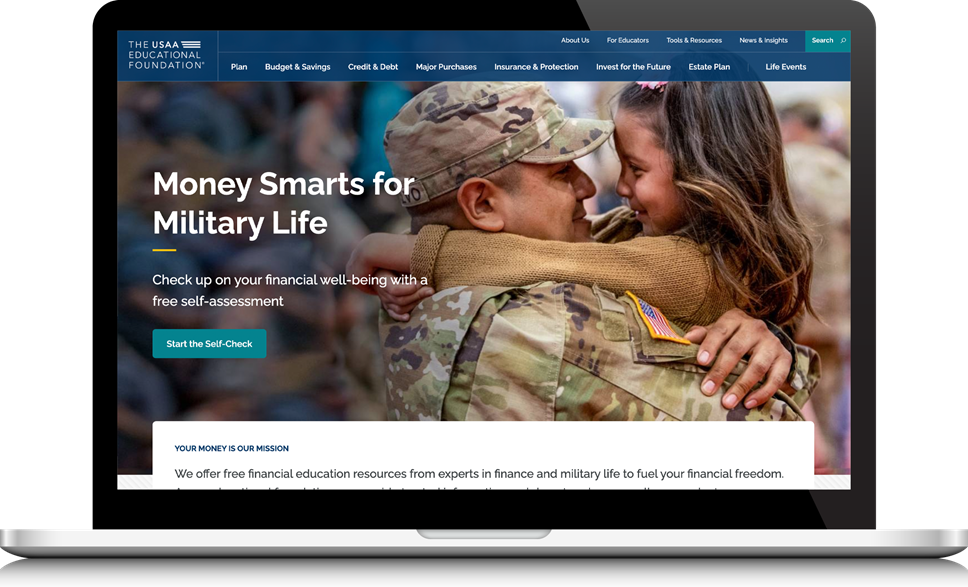 USAA Educational Foundation Launches New Website with Financial Resources Designed Specifically for the Military Community
Free tools and resources developed by CERTIFIED FINANCIAL PLANNER™ professionals with deep knowledge of needs of the military community.
SAN ANTONIO, TX – The USAA Educational Foundation, a 501(c)(3) nonprofit organization with a focused mission to improve the financial readiness of the military community, has launched a new website that offers a variety of helpful resources, including educational videos, financial self-assessment tools, articles and calculators tailored specifically to military members and their families.
"Whether someone is newly enlisted, a military spouse, senior officer or veteran, we know every stage of military life presents unique financial challenges, opportunities and benefits," said Ameesh Vakharia, chairman of the USAA Educational Foundation. "We utilized the expertise of our Educational Foundation team to build a one-stop resource to help every member of the military make smart financial decisions that will set them up for success in the future."
The content and resources on the new site were created by CERTIFIED FINANCIAL PLANNER™ professionals on the USAA Educational Foundation team who have more than 100 years of combined financial experience, advanced credentials and deep, personal ties to the military community. They were able to identify specific needs to address and develop:
Easy-to-use learning guides about budgeting, savings, credit and debt, insurance, investing and estate planning.
A special Life Events section that includes financial tips and checklists for important life milestones, including military-specific events such as initial entry, moving (PCS), preparing for, or returning from deployment, and transitioning to civilian life.
Resources to answer questions on various topics such as videos, interactive calculators and worksheets.
Comprehensive tools and materials for educators to help them provide instruction on basic financial topics.
To begin using the new website and resources, visit USAAEF.org.
About USAAEF
Since 1986, The USAA Educational Foundation has served the military community by helping service members and their families become informed financial decision-makers through every life stage. The Educational Foundation is sponsored by USAA, and while both organizations serve the military community, the Foundation acts as a separate organization. It has oversight from an independent board, and serves the military and their families, regardless of USAA membership.