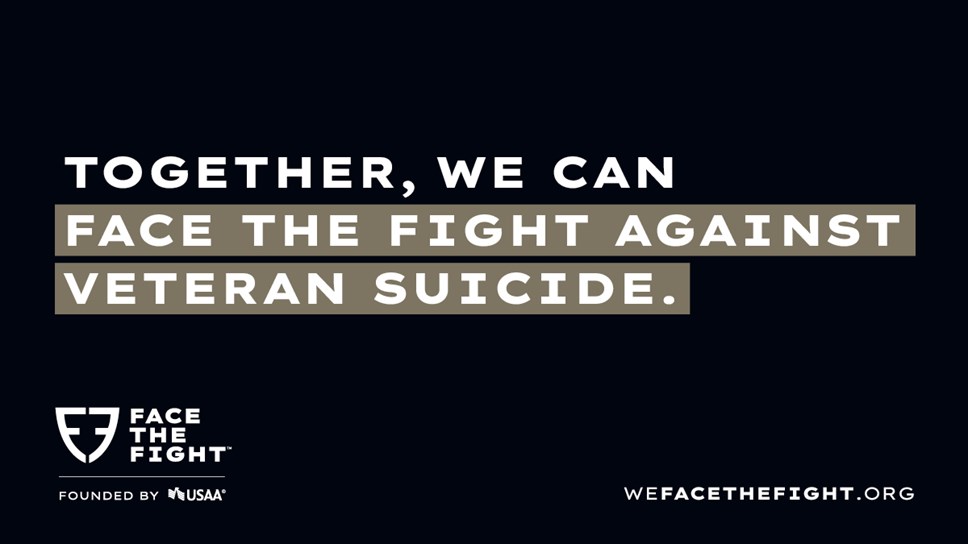 Face the Fight™ Launches to Help Stop Veteran Suicide
Together, we can face the fight against veteran suicide.
SAN ANTONIO, June 29, 2003 – Since 2001, more than 120,000 veterans have died by suicide, driven by a veteran suicide rate that is currently 1.5 times the rate of the general population. Now, a coalition of corporations, foundations, nonprofits and veteran-focused organizations have launched Face the Fight™ to raise awareness and support for veteran suicide prevention. The aspiration is to cut the veteran suicide rate in half by 2030.
Established by USAA and The USAA Foundation, with the Humana Foundation and Reach Resilience, an Endeavors Foundation, as founding partners, the mission of the initiative is to break the stigma of seeking help, increase the conversation about the problem and complement the efforts of The Department of Veterans Affairs (VA), Department of Defense (DoD) and many others to stop veteran suicide.
"USAA's more than 100-year legacy is built on supporting and advocating for the military community," said Wayne Peacock, USAA president and CEO. "Our service members stand tall in the noble calling to serve others, and we need to stand with them for challenges they may face, including mental health and suicide. Through focused funding and work with experts, we believe Face the Fight will make a difference in raising awareness for veteran suicide prevention. And we invite others to join us in this fight."
A key component of Face the Fight's work is funding and providing philanthropic grants to nonprofit organizations that can help stop veteran suicide. Over the past year, USAA has worked with a team of experts, including The University of Texas Health Science Center at San Antonio, the VA, the DoD, RAND Corporation and nonprofit alliances to design the philanthropic strategy and identify outcomes necessary to stop veteran suicide.
USAA and The USAA Foundation seeded a coalition-backed philanthropic fund with an initial $10 million in grants. As founding partners, the Humana Foundation made a three-year, $6 million philanthropic commitment and Reach Resilience made a five-year, $25 million commitment.
"Humana is committed to ensuring all veterans and military members have access to the care they need, especially those in underserved communities where advances in health equity are greatly needed," said Bruce D. Broussard, Humana President and CEO. "The launch of Face the Fight is an important milestone in the fight against veteran suicide and will help significantly ease the challenges experienced by veterans and their families. Together, with the Humana Foundation, USAA, Reach Resilience and others, we join this fight to help remove systemic barriers and raise awareness of the mental health challenges faced by our veteran community who have dedicated their lives to serving our country."
The initial $41 million in philanthropic grants will focus on supporting nonprofit programs with specific focus areas. These include expansion of suicide prevention and training programs, clinical fellowships to strengthen the pipeline of qualified clinicians, and distribution of tools to veteran service organizations, the legal community and other entities who work with veterans.
"Veteran suicide is a national crisis. An estimated 50,000 more veterans will die by suicide this decade if we don't act now," said Sonya Medina Williams, Reach Resilience president and CEO. "As part of our mission to serve communities and people in crisis, we are committed to Face the Fight with USAA and the Humana Foundation. Together, we will break the silence around veteran suicide and spark a national conversation about military life, mental health, and the need for our country to show up for our veterans and ensure that no one is left behind."
To learn more about Face the Fight, find help and join the fight, visit wefacethefight.org.
About USAA
Founded in 1922 by a group of military officers, USAA is among the leading providers of insurance, banking, and investment and retirement solutions to more than 13 million members of the U.S. military, veterans who have honorably served and their families. Headquartered in San Antonio, USAA has offices in eight U.S. cities and three overseas locations and employs more than 37,000 people worldwide. Each year, the company contributes to national and local nonprofits in support of military families and communities where employees live and work. For more information about USAA, follow us on Facebook or Twitter (@USAA), or visit usaa.com.
About The USAA Foundation, Inc.
The USAA Foundation, Inc., a nonprofit organization, supports organizations that provide services in the areas of education, health and human services, arts and culture, and civic and economic development primarily in the communities where USAA employees live and work. The USAA Foundation, Inc., does not endorse or promote any commercial supplier, products or services. USAA is the sponsor of The USAA Foundation, Inc.
About Humana Foundation
The Humana Foundation was established in 1981 as the philanthropic arm of Humana Inc. and is focused on health equity, working to eliminate unjust, avoidable and unnecessary barriers in health and healthcare. The Foundation fosters evidence-based collaborations and investments that help people in underserved communities live connected, healthy lives. As a steward of good health, the Foundation creates healthy emotional connections for people and communities and is shaping a healthier approach to nutrition to support lifelong well-being. For more information, visit humanafoundation.org .
Humana Inc. and The Humana Foundation believe everyone should have access to the tools and support needed to have a fair and just opportunity to be as healthy as possible. Our commitment to improving health outcomes for all – our members and patients, employees, the communities we serve, the healthcare system, and the environment – is the foundation of our Environment, Social, and Governance (ESG) impact platform.
About Reach Resilience
Formed in 2021, Reach Resilience is a mission enabler for Endeavors and builds on its longstanding commitment to serve communities in crisis. Endeavors is a national service organization that has been assisting vulnerable populations since 1969, offering an array of services and programs supporting children, families, migrants, veterans, and those struggling with mental illness, disabilities, disasters, or emergencies.
Reach Resilience is dedicated to developing partnerships, securing resources, and amplifying support to uplift people and communities in need with the goal of advancing hope, healing, and change in the world. Together, Endeavors and Reach Resilience are restoring dignity, inspiring confidence, and empowering progress for individuals facing overwhelming obstacles. For more information on Reach Resilience and Endeavors visit www.ReachResilience.org and www.Endeavors.org.