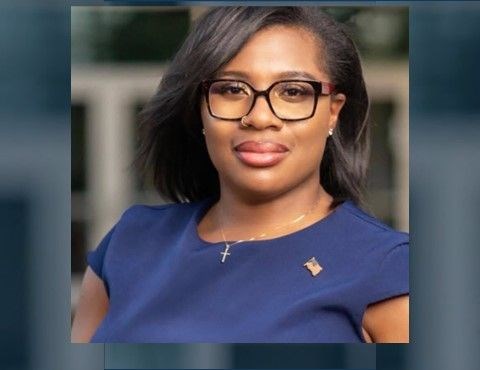 USAA Celebrates Women's History Month
From early on in her career at USAA, Tiffany G. knew she wanted to join Elevate, USAA's diversity business group (DBG) focused on creating gender diverse partnerships to build more effective teams.
March 28, 2023 - "I saw a group of people handing out bookmarks at a booth on campus and I knew I wanted to join them," recalls Tiffany. "I wanted to get involved in the push for gender diversity."
Tiffany started working at USAA after she separated from the Army and Federal service. As a 16-year member, she was familiar with our mission and saw a future for herself serving our membership in the small business insurance space.
"I am a veteran, minority woman who owns a small business," she says. "Here, I have the opportunity to salute the accomplishments of other military women and help them bring their stories and dreams to life."
Tiffany not only joined Elevate, but she stepped up to lead the group.
"I have collaborated with other DBGs on more than 18 events and have had so many opportunities to share what Elevate is all about – even sharing what I've learned with external non-profits that are trying to build similar values," says Tiffany. "But it isn't about the events, it's about the questions you get afterward and the impact you leave behind. It's about learning, developing and growing not just as an employee, but as an individual. I want to be a part of setting the path for people to change for the better."
For Tiffany, Women's History Month is about appreciating the challenges women have overcome and planning for the challenges that still lie ahead.
"The present could never happen if the past didn't occur," she explains. "I am grateful for everything I have and everything I am."
The battle for equity, she says, isn't over.
"Whether when I served in the Army or in the capacity I am now, the fight is never over," says Tiffany. "I will always have to be in competition – and that's not necessarily a bad thing. It helps me grow. It's important to emphasize every generation of women to appreciate where we are."